Attract and position deer to increase harvest potential or viewing opportunities
Supplement deer nutrition during times of stress such as summer, winter, or during drought.
Decrease habitat stress and over browsing of natural food sources.
Maintain a nutritional baseline after an agricultural crop harvest.
MonsterMeal isn't just bait in a bag or a "pour and pray" product. Our supplements, feed and attractant all represent the culmination of over 70 years of ruminant nutrition experience. Our products are manufactured in our own mills. We use the same processes and ingredients that earn us awards for quality, consistency, and safety year after year. By controlling these factors and never compromising the integrity of a superior product, we can support our claims with facts. Rest assured that MonsterMeal products are, by design, the finest supplements and most effective attractants available. Attract. Nourish. Enjoy.
RECOMMENDED PRODUCT USAGE
FALL
BREEDING SEASON
Due to the physical demands of breeding season, all deer can become nutritionally stressed. MonsterMeal Feeder Pellets provide a superior nutritional feed to aid in maintaining overall herd health and strength. Furthermore, where attractants are legal, MonsterMeal Attractant is the best tool to retain and recruit more deer and increase deer activity on your property.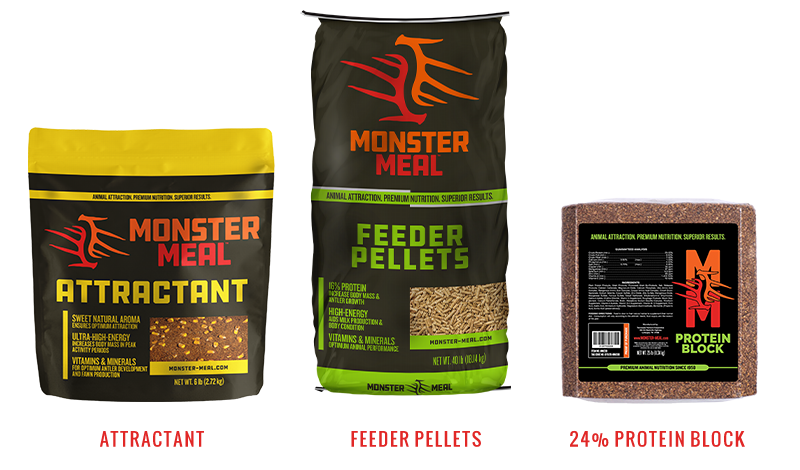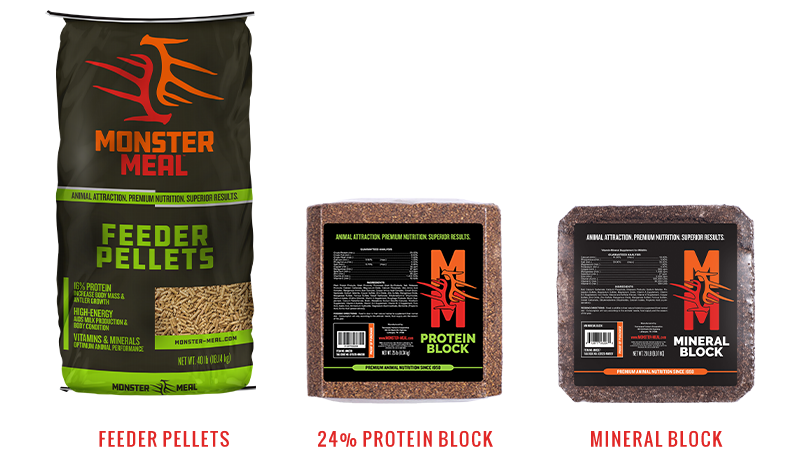 WINTER
RUT ENDS / LIMITED FORAGE / GESTATION
Limited natural browse combined with adverse weather conditions puts stress on deer. Pregnant does and rut weary bucks will benefit from MonsterMeal Feeder Pellets. MM Protein Blocks, MonsterMeal Feeder Pellets, and MM Mineral Blocks ensure biologically sound support for your winter deer herd. MonsterMeal Attractant is an excellent choice for "Post season inventory" in front of your trail camera.
SPRING
BUCK RECOVERY/ANTLER DEVELOPMENT/FAWN PRODUCTION
This is considered the "growing season" for both antlers and offspring (fawns). MonsterMeal Feeder Pellets and MM Protein Blocks will grow larger bodies, antlers and aid in milk production for nursing fawns. MM Mineral blocks and MonsterMeal Granular Minerals will grow stronger, healthier deer. Start MonsterMeal Mineral sights as soon as it is practical so deer will reach their maximum potential.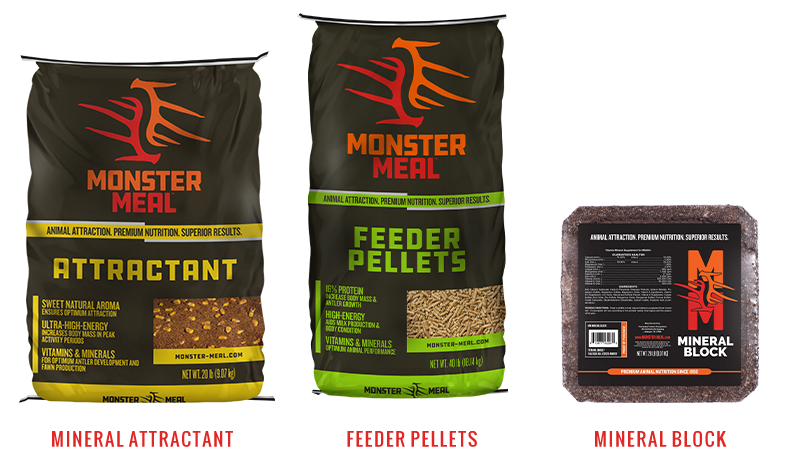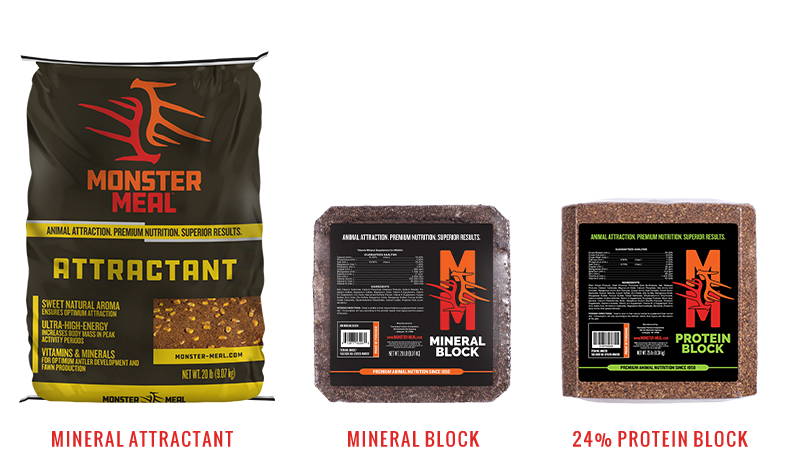 SUMMER
VARIABLE NUTRITION HEAT/DROUGHT SEASONAL DEER INVENTORY
Fortified vitamins and minerals are critical in extreme conditions such as heat and drought. Keeping your herd supplemented with MonsterMeal Minerals ensure healthier stronger deer. In areas where agricultural forage (hay) is harvested at peak nutrition, MonsterMeal Feeder Pellets fill in the nutritional gaps and help reduce the seasonal movement of deer away from your property. MonsterMeal Attractant Is the preferred product to get those camera – shy bucks in just the right spot!